【Why choose a weighted blanket?】: If you also have problems with sleeping, sleep deprivation, or even more serious conditions, then we have an item that can help you get the peaceful sleep you have been dreaming of for a long time: the Peradix weighted blanket. It will give you a comfortable hugging feeling and a sweet dreaming night.
【The working principle of the weighted blanket】: The weighted blanket provides a sensation called "deep pressure touch", which exerts moderate pressure on the sleeper's body and pushes them into a deeper sleeping surface. This has been shown to increase serotonin and melatonin, producing sedation and relaxation, while reducing cortisol, the hormone responsible for stress. This natural physiological method reduces anxiety, improves mood, and promotes restful sleep and relaxation.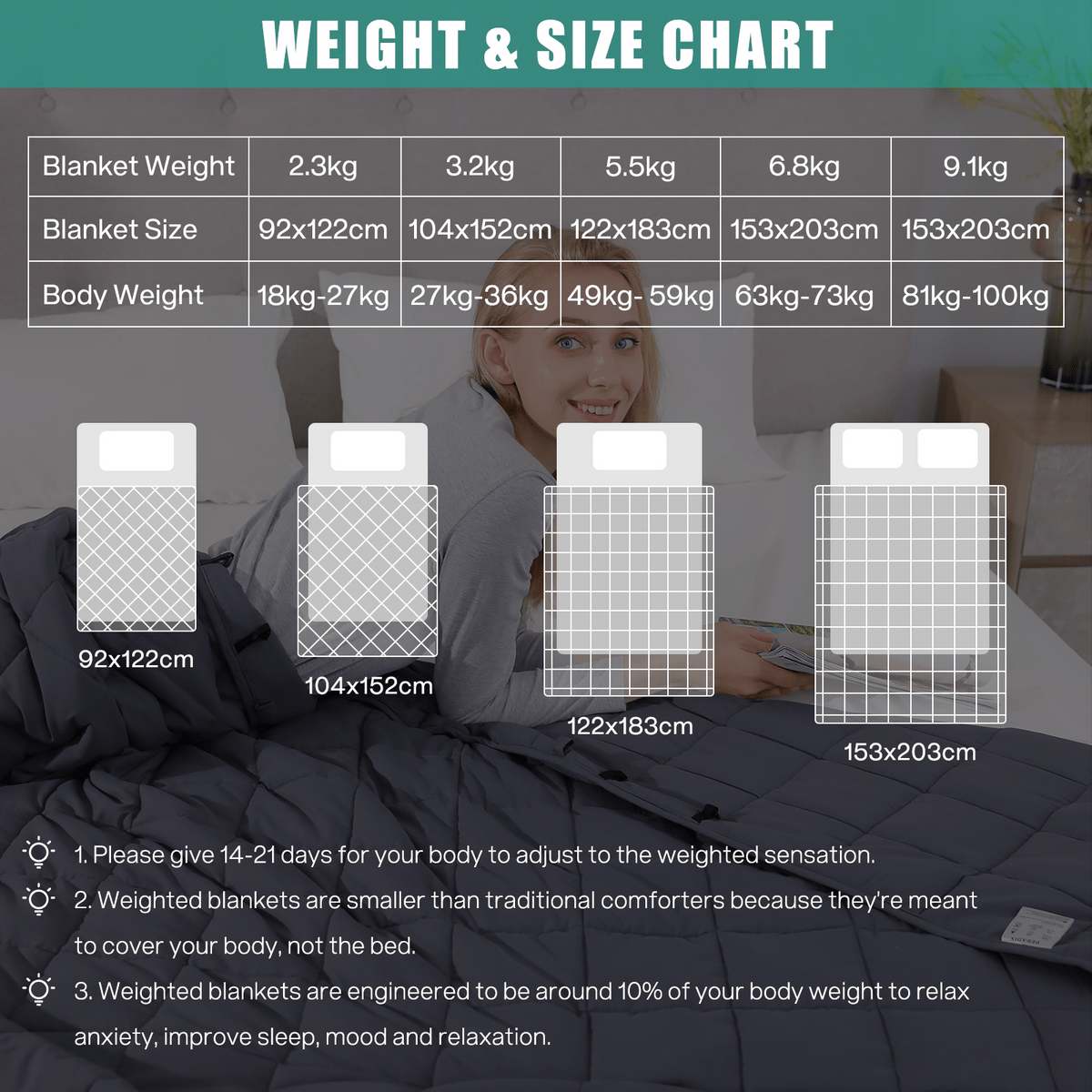 【Which weight do I need to choose】: The important thing is that the weight of the blanket is proportional to the weight of the person using it. The generally accepted principle validated by occupational therapists is that the weighted blanket should be 7-12% of your body weight. The 5.5kg weighted blanket is suitable for bodyweight 49-59kg. The 6.8kg is suitable for bodyweight 63-73kg. The 9.1kg is suitable for bodyweight 81kg-100kg.
【Ingenious design】: We added two locks on one side of the weighted blanket so that it will not slip off when you use the heavy blanket as a shawl. There are 12 non-slip hanging loops around the weighted blanket. When you want to add a quilt cover to the weighted blanket, you can tie it to the non-slip hanging loop to avoid gathering to one side.
【Uniform weight distribution】: Precise computer programming sewing and tight stitching ensure that the glass beads are evenly filled into each small diamond lattice pocket, preventing the glass beads from gathering to one side or leaking. The same weight and pressure are evenly distributed, perfectly hugging your body, allowing you to fall asleep, read, relax or meditate at ease.